____________________________________________________________________________
Best Hunting Video EVER?
Thanks For Waiting


CLICK THE PIC To WATCH:
*Comment on the video *Rate the Video *Upload your own vids *Add it to Facebook *Tweet it and more

____________________________________________________________________________

This buck was shot @ the Fort Ripley MN, special hunt held every year. 32 points….wow……

Trail Cam From Waupaca County, WI



Cool Blind
Ground Blinds Have Come a Long Way
30 Point Buck Bagged in Fon du Lac, Wisconsin
Wayne Schumacher of Fond du Lac is shown with the 30-point buck he shot while bow hunting in Fond du Lac County. This photo was taken Monday at Dutch's Trading Post |on North Main Street, where |he registered the deer. (THE REPORTER PHOTO BY PATRICK FLOOD) Read More


Typical Whitetail Record in Alberta Canada ( Killed 2007 ) He shot this near Two Hills fall/winter of 2007. Biggest typical whitetail take in Alberta EVER! He was on the cover of Buck magazine. He has was offered $200,000.00 for it right away. Shed Hunting Tips Best places to look for sheds: 1. Winter Feeding Areas With so much up-and-down head movements to feed and watch for danger, antlers are especially susceptible to falling off here. Plus, deer numbers are often more concentrated near food sources during the prime "shedding" months of January and February. 2. Bedding Areas Next to feeding areas, deer spend more time in their bedrooms than anywhere else. 3. Creek/Ditch Crossings Look for terrain features where a buck is likely to "rattle" his antlers lose, such as jumping to cross a creek, ditch or fence. 4. Major Funnels Ravines often force deer to funnel through one area, concentrating the places you have to look. The more deer using a given path, the more likely one of those deer was a buck that recently lost his headgear. -North American Hunting Club

Buck Attacks Hunter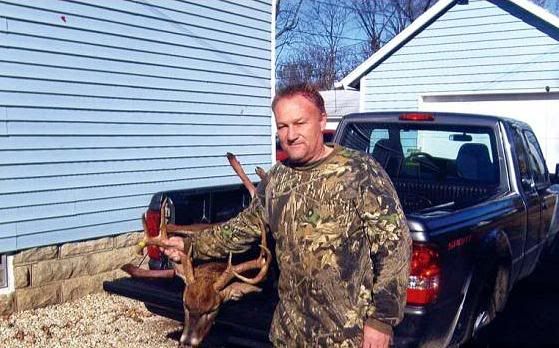 SEDALIA, Mo. — A Sedalia hunter bagged a big buck on the second day of firearms season, but the kill caused him a lot of pain. Forty-nine-year-old Randy Goodman said he thought two well-placed shots with his .270-caliber rifle had killed the buck on Nov. 19. Goodman said the deer looked dead to him, but seconds later the nine-point, 240-pound animal came to life. The buck rose up, knocked Goodman down and attacked him with his antlers in what the veteran hunter called "15 seconds of hell." The deer ran a short distance and went down, and died after Goodman fired two more shots. Soon Goodman started feeling dizzy and noticed his vest was soaked in blood. So he reached his truck and drove to a hospital, where he received seven staples in his scalp and was treated for a slight concussion and bruises.

Timber Ridge, Central Wisconsin. Two bow-hunters exiting the woods after their morning hunt encounter a pair of locked bucks fighting in a stream. While one hunter films the action with a video camera, his partner approaches within bow range and shoots one of the bucks. The buck dies within seconds. They later returned to shoot the other deer. Both bucks were tagged and then separated.


"Would You Like Breakfast Deer?"
Youth Hunt Wisconsin - Oct. 2009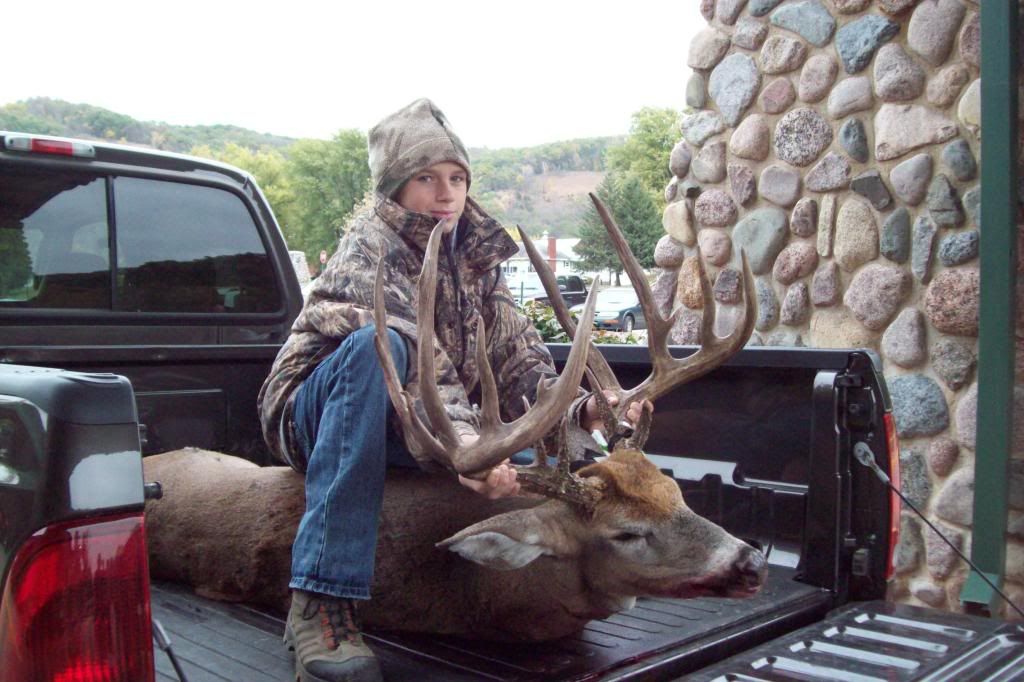 This deer was registered by a young lad at Ace in Sauk County this year during the youth hunt in Wisconsin.