Juicy Venison Bacon Burgers
Ingredients:
* 6 slices hickory-smoked bacon * 1/2 pound ground venison * 1/2 pound lean ground beef * kosher salt * fresh ground black pepper * stout beer (such as Guinness®) * Lea & Perrins Worcestershire Sauce * 4 hamburger buns, split
Instructions
1.
Place the bacon in a large, deep skillet, and cook over medium-high heat, turning occasionally, until evenly browned, about 10 minutes. Drain the bacon slices on a paper towel-lined plate.
2.
Combine ground venison and ground beef in a bowl. Divide into 4 balls, and flatten into patties.
3.
Heat a large skillet over medium heat. Place the burgers in the heated skillet and sprinkle each burger with salt, black pepper, a dash of beer, and a dash of Worcestershire sauce. Flip the burgers once a brown crust has formed on the bottom, about 5 to 10 minutes. Sprinkle the cooked side of the burgers with the salt, pepper, beer, and Worcestershire. Cook burgers another 5 to 10 minutes for well done. Top each patty with bacon and serve on hamburger buns.
___________________________________________________________________________________
Grilled Venison Tenderloin Medallions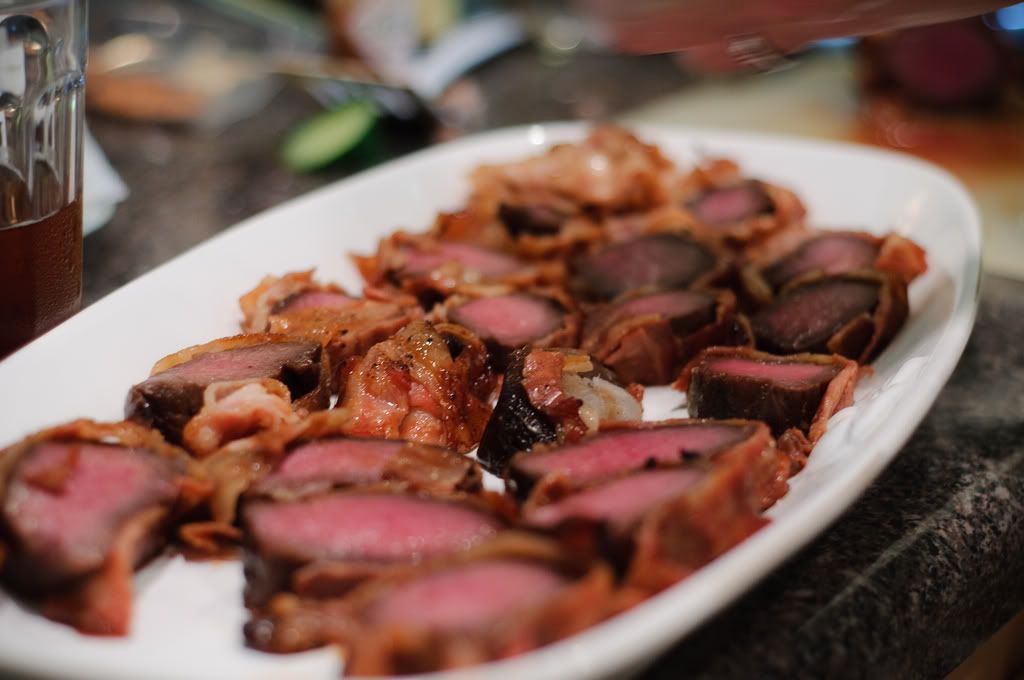 Slice the venison tenderloin into one inch sections. Wrap each one, around the edge, with a strip of bacon. Use thin sliced bacon, and toothpick it into place. Season the venison medallions with a bit of cracked black pepper and salt.
Cook quickly over hot charcoal until medium rare to medium. After two minutes on each side, check the internal temperature. Medium rare is 145 degrees Fahrenheit... medium is 160F. Remove the grilled tenderloin medallions from the grill and serve immediately.
Just before serving, brush on hot, melted butter. It's decadent, but ooh, what a taste!
Venison tenderloin charcoal grilled in this manner can be accompanied with a baked potato, grilled zucchini squash, and hot grilled and buttered french bread. Sounds like a plan to me! ___________________________________________________________________________________
Savory Venison Meatloaf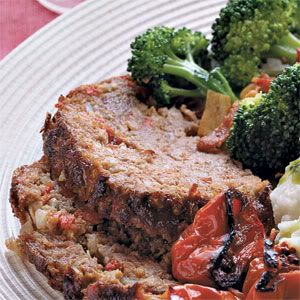 Prep Time:
15 Min
Cook Time:
35 Min
Ready In:
55 Min
Ingredients
1 pound ground venison
1 egg
1 (4 ounce) packet saltine crackers, finely crushed
1/4 cup barbecue sauce
1/2 yellow onion, chopped
1/2 teaspoon dried sage
1/2 teaspoon steak seasoning
2 tablespoons brown sugar
2 tablespoons Worcestershire sauce
3 slices bacon
3/4 cup barbecue sauce
2 tablespoons brown sugar
1 tablespoon Worcestershire sauce

Directions
1. Preheat an oven to 350 degrees F (175 degrees C).

2. Mix the venison, egg, cracker crumbs, 1/4 cup barbecue sauce, onion, sage, steak seasoning, 2 tablespoons brown sugar, and 2 tablespoons Worcestershire sauce in a mixing bowl with your hands until evenly combined. Pack into a 3x7-inch loaf pan, and lay the bacon strips over top.

3. Bake in the preheated oven until no longer pink in the center and the bacon is crispy, about 35 minutes. An instant-read thermometer inserted into the center should read at least 160 degrees F (70 degrees C). Meanwhile, stir 3/4 cup barbecue sauce, 2 tablespoons brown sugar, and 1 tablespoon Worcestershire sauce in a sauce pan over medium heat. Simmer 5 minutes, whisking constantly. Pour the sauce over the cooked meatloaf, and let rest 5 minutes before serving. ____________________________________________________________________________
Potato Gnocchi with Venison Stew
Ingredients
1/2 cup dried Porcini mushrooms
1/4 cup olive oil
1 medium onion, minced
1/4 cup minced Pancetta or bacon (1 ounce)
Salt and freshly ground black pepper to taste
2 1/3 lbs. boneless venison, cut into 1-inch cubes
1/2 cup dry red wine
2 bay leaves
2 whole cloves
1 fresh rosemary sprig (or 1 tsp. dried)
2 tbsp. tomato paste
3 1/2 cups chicken stock
1 package Potato Gnocchi
Preparation:
Soak the Porcini in 2 cups of hot water until softened, about 30 minutes. Drain the mushrooms, reserving the liquid. Rinse and chop the mushrooms, discarding any tough bits. Strain the liquid through cheese cloth and reserve.
Meanwhile in a large casserole, heat the oil over medium heat. Add the onion and Pancetta, sauté until golden (about 6 minutes). Season to taste with salt and pepper. Increase heat to high, add venison and cook until all the meat juices have evaporated (about 15 minutes). Add chopped Porcini to the casserole, along with the wine, bay leaves, cloves and rosemary. Cook, stirring continuously, until the wine is nearly evaporated (about 5 minutes).
Stir in the tomato paste and season lightly with salt and pepper. Add stock and reserved mushroom liquid and bring to a boil. Reduce heat to medium low and simmer, partially covered until the meat is tender (about 1 1/2 hour). Remove the bay leaves and rosemary sprig.
This stew can be made up to 2 days ahead of time and refrigerated.
In a large pot of salted boiling water, cook the Gnocchi in 3 or 4 batches until they rise to the surface (about 2-3 minutes per batch). Using a slotted spoon transfer the Gnocchi to a warm platter and cover with foil. Toss Gnocchi with hot venison stew and serve immediately.
____________________________________________________________________________
Mini-Venison Burgers
Ingredients
1/2 pound ground venison
1/2 pound ground pork
Salt and freshly ground black pepper
1 cup chopped white mushrooms
1 cup chopped sweet onions
2 ounces blue cheese (or your choice of cheese)
16 mini-pretzel rolls (the dinner-roll size)
Directions
Pre-heat grill
Mix venison, pork, salt, pepper, mushrooms and onions, and form into 16 small patties.
Grill to medium doneness and crumble blue cheese on top.
Serve on pretzel rolls.
____________________________________________________________________________
Venison Oscar
Ingredients
1/8 cup olive oil
2 lbs. sliced venison top round, cut into 2 oz. portions and pounded thin
salt and freshly ground black pepper
16 asparagus spears, tips only
4 tbsp. mayonnaise
3 egg yolks
2 tsp. freshly squeezed lemon juice
2 tsp. crab boil seasoning (Old Bay recommended)
1/2 lb. jumbo lump crab meat
Directions
Preheat oven to 350 degrees F.
Heat olive oil in a skillet. Season venison with salt and pepper and sear both sides lightly. Arrange on a baking sheet.
With a bowl of ice water handy, blanch or steam asparagus tips until tender and shock in cold water.
Combine mayonnaise, egg yolks, lemon juice and crab boil seasoning in a bowl and mix well. Stir in crab meat and spoon mixture onto each venison cutlet placing 2 asparagus tips criss-crossed on top.
Bake un oven until crab is light golden brown (approx. 6-8 minutes)
____________________________________________________________________________
Venison Schwenkbraten
Prep Time: This takes 20 minutes to put together, 8 to 24 hour marinade time and 20 minutes to grill.
Summary:
Developed in Saarland (southwest Germany, borders France) and adopted all over Germany where regulations allow, the "Schwenker" is a venison/beef/pork steak marinated for at least 24 hours and grilled over a wood fire. The "Schwenker" is also the person who does the "schwenken" (swinging), as the grill swings gently over a wood fire using a metal tripod.
Ingredients
4 lbs. venison back strap/steaks
1 cup oil
4 garlic cloves, minced
2-3 tbsp. salt
1-2 tbsp. freshly ground black pepper
1-2 tbsp. spicy mustard
2 tsp. ground paprika
1/2 tsp. cayenne pepper
1-2 tsp. dried oregano
1 1/2 tsp. ground nutmeg
3-4 onions sliced thinly
Directions
cut the meat cross wise, 1/2 to 3/4 inches thick to make steaks.
Mix the oil with the garlic, mustard and the rest of the spices in a large bowl, add the steaks and the onions and turn to coat. Layer all the meat and the onions in the bowl, cover with plastic wrap or foil and refrigerate for a minimum of 8-24 hours, mixing a few times to redistribute the oil.
Remove meat from the refrigerator about 1/2 hour before grilling (to take the chill off). Place schnitzel (without onions) in a single layer over direct heat, salt (a little) and grill for 8-10 minutes per side.
Traditionally, these are grilled over beech wood fires. You may also use charcoal or gas.
____________________________________________________________________________
Grilled Venison Backstrap
Prep Time: 5 Min - Cook Time: 20 min
Summary:
""Tender chunks of venison are marinated twice, and wrapped in thick bacon before being grilled until crispy on the outside. A venison version of Filet Mignon. This is a heavenly use of the best part of a deer. For the BBQ sauce, I prefer hickory flavored."
Ingredients
2 pounds venison backstrap (tenderloin), cut into 2 inch chunks
1 quart apple cider
1 1/2 pounds thick sliced bacon
2 (12 ounce) bottles barbecue sauce, your choice
Directions
Place chunks of venison into a shallow baking dish, and pour enough apple cider in to cover them. Cover, and refrigerate for 2 hours. Remove, and pat dry. Discard apple cider, and return venison to the dish. Pour barbeque sauce over the chunks, cover, and refrigerate for 2 to 3 more hours.
Preheat an outdoor grill for high heat. Charcoal is best, but if you must, use gas. Remove meat from the refrigerator, and let stand for 30 minutes, or until no longer chilled. Wrap each chunk of venison in a slice of bacon, and secure with toothpicks.
Brush the grill grate with olive oil when hot, and place venison pieces on the grill so they are not touching. The bacon will kick up some flames, so be ready. Grill, turning occasionally, until the bacon becomes slightly burnt, 15 to 20 minutes. The slower, the better. Dig in, and prepare to want more!
____________________________________________________________________________
Slow Cooker Venison Sloppy Joes
Prep Time: 5 Min Cook Time: 8 Hrs
Origin:
"This recipe comes from my friend who is a guide in Alaska - it's excellent for sandwiches, on rolls with sharp Cheddar cheese. Yum yum! Slow cooked in a slow cooker so even the toughest of roasts or stew meats will work; eventually the meat just falls apart! Also good served over hot cooked rice. Delicious!"
Original Recipe Yield 8 servings
Ingredients
1/2 pound bacon
4 pounds venison stew meat
2 large yellow onion, chopped
1 cup brown sugar
1/2 cup wine vinegar
2 tablespoons ground cumin
2 teaspoons chili powder
1/4 cup minced garlic
2 tablespoons prepared Dijon-style mustard
2 cups ketchup
salt and pepper to taste
Directions
Place bacon in a large, deep skillet. Cook over medium high heat until evenly brown. Remove from skillet, crumble and set aside. Brown stew meat in bacon grease for flavor.
Put onion, sugar, vinegar, cumin, chili powder, garlic, mustard, ketchup, salt and pepper in slow cooker and mix well. Add bacon and venison and stir together.
Cook for a minimum of 8 hours on Low setting. Use a fork to separate the meat into a thick and yummy Sloppy Joe-style barbecue.
____________________________________________________________________________
Drunk Deer Chili
Prep Time:30 Min
Cook Time: 1 Hr 15 Min
Ready In: 1 Hr 45 Min
Original Recipe Yield 10 servings
Ingredients
1/4 cup butter
1 pound ground venison
1 pound cubed beef stew meat
1 pound cubed pork stew meat
1 large onion chopped
1 fresh jalapeno pepper, seeded and minced
3 tablespoons chili powder
1/2 teaspoon cayenne pepper
1 1/2 teaspoons ground cumin
2 (14 ounce) cans stewed tomatoes, with juice
1 (15 ounce) can tomato sauce
6 cloves garlic, minced
4 cubes beef bouillon, crumbled
1/4 cup Kentucky bourbon
2 (12 fluid ounce) cans pilsner-style beer 2 cups water
Directions
Melt the butter in a large pot over medium heat. Cook the venison, beef, and pork in the melted butter until completely browned. Add the onion and jalapeno; cook until tender. Season with chili powder, cayenne pepper, and cumin. Stir in the stewed tomatoes, tomato sauce, garlic and beef bouillon. Pour the bourbon, beer, and water into the mixture and stir. Bring the chili to a boil; cover and reduce heat to medium-low; simmer about 1 hour, stirring frequently.
____________________________________________________________________________
Venison Meatballs with Pepper Sauce
Ingredients:
1 cup evaporated milk
1 tablespoon Worcestershire sauce
1 envelope onion soup mix
2 pounds ground venison
Sauce:
1/2 pound fresh mushrooms, sliced
1 1/2 cups ketchup
3/4 cup packed brown sugar
3/4 cup water
1/2 cup chopped green pepper
1/2 cup chopped sweet red pepper
2 tablespoons chopped onion
1 tablespoon Worcestershire sauce
In a large bowl, combine the first three ingredients. Crumble beef over mixture and mix well. Shape into 1-in. balls. Place on a greased broiler pan. Broil 4-6 in. from the heat for 5-8 minutes or until browned. In a Dutch oven, combine the sauce ingredients. Bring to a boil. Reduce heat; add meatballs. Simmer, uncovered, for 1 hour or until the meat is no longer pink. Serve as appetizers or serve over noodles or cooked rice as a meal.
______________________________________________________________________________