Gourmet Venison Roast
Use this venison recipe with any leg of venison.
Ingredients:
*1 leg of venison *250g streaky bacon, cut into 3cm pieces *1 cup red vinegar *2T salt *2T brown sugar *Handful of raisins *2 large cloves garlic, sliced *Pepper *1/2t ground ginger
Marinade
*1 onion, sliced *1 bay leaf *6 whole cloves *3 cups red wine *2T oil
Glaze
*4T smooth apricot jam *2T flour *4T sherry
Instructions
1.
Place bacon, 2 tablespoons of the vinegar, 1 teaspoon salt and one teaspoon sugar in a small container and marinate for 45 minutes.
2.
Pierce venison leg with a sharp knife and place a raisin, slice of garlic and a piece of bacon into each cut.
3.
Mix pepper, ginger, remaining salt and sugar and rub into the meat with your hands.
4.
In a casserole dish, large enough to hold the leg. Mix the marinade ingredients with remaining vinegar. Bring mixture to boil and add leg. Turn the leg until all sides are sealed (no more than 10 minutes in total). Remove from heat and allow to cool in the marinade. Once cool, leave in a cool place for 24 hours, turning a few times.
5.
Place the leg in a roasting tray with 1 cup marinade and sear in a pre-heated oven at 220°C for 10 minutes. Reduce heat to 180°C for the remaining cooking time. Roast for between 8 and 10 minutes per 500g of meat, for rare to medium. Baste the meat regularly, adding more marinade if necessary.
6.
Mix flour, jam and sherry and smear over the meat and glaze the meat during the last 5 to 10 minutes.
7.
Once roasted, transfer the leg to a platter and leave in a warm place to rest for 15 minutes. Serve with vegetables and yellow raisin rice.
___________________________________________________________________________________
Grilled Venison Tenderloin Medallions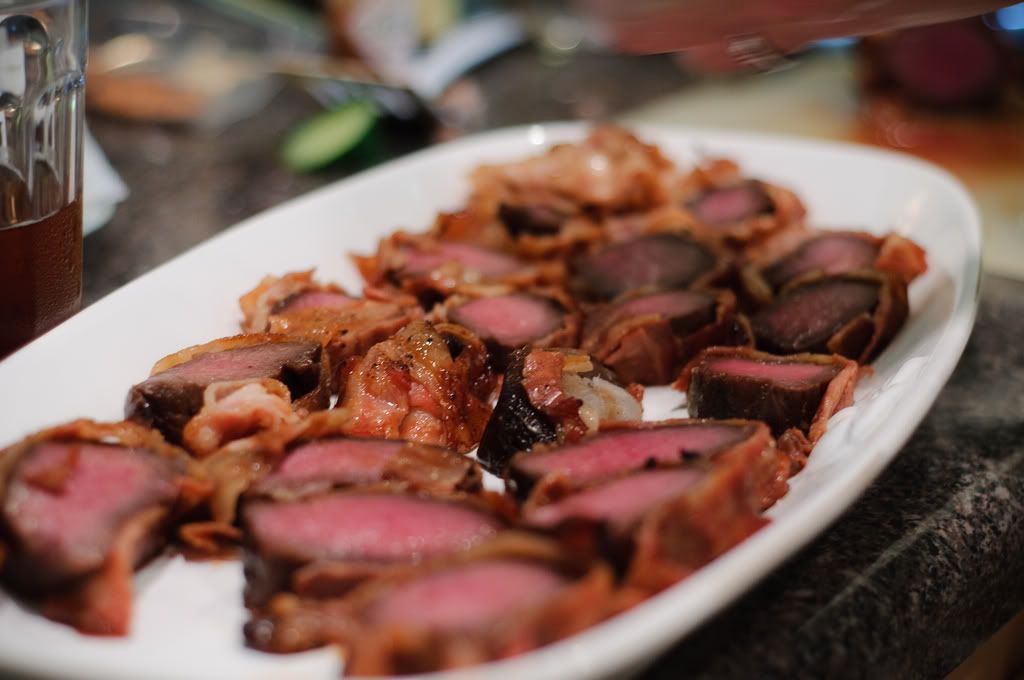 Slice the venison tenderloin into one inch sections. Wrap each one, around the edge, with a strip of bacon. Use thin sliced bacon, and toothpick it into place. Season the venison medallions with a bit of cracked black pepper and salt.
Cook quickly over hot charcoal until medium rare to medium. After two minutes on each side, check the internal temperature. Medium rare is 145 degrees Fahrenheit... medium is 160F. Remove the grilled tenderloin medallions from the grill and serve immediately.
Just before serving, brush on hot, melted butter. It's decadent, but ooh, what a taste!
Venison tenderloin charcoal grilled in this manner can be accompanied with a baked potato, grilled zucchini squash, and hot grilled and buttered french bread. Sounds like a plan to me! ____________________________________________________________________________
CAJUN DEEP-FRIED WILD TURKEY
Yield 12 to 16 servings.
Ingredients
*1 (10-15 lb.) unstuffed wild turkey
*5 gallons peanut oil
*2 tbsp. Cajun seasoning
*1 stick butter or margarine
*1/2 tsp. garlic powder
*1/2 tsp. cayenne pepper (optional)
Directions
Pour peanut oil into a 10 gallon pot. Put pot on propane cooker and heat oil to 375 degrees. Have turkey completely thawed and dry turkey thoroughly. Tie two cotton strings around the carcass so bird can be easily lifted out of oil. Carefully submerge turkey in oil. Deep fry for 3 1/2 to 4 1/2 minutes per pound and cook until turkey floats to the top. Remove bird from oil, and immediately dust heavily with cajun seasoning. Melt butter or margarine, and add to it garlic powder and cayenne, if desired. Brush turkey with butter mixture. Allow to cool 20 to 30 minutes before carving. Yield 12 to 16 servings.
___________________________________________________________________________________
Juicy Venison Bacon Burgers
Ingredients:
* 6 slices hickory-smoked bacon * 1/2 pound ground venison * 1/2 pound lean ground beef * kosher salt * fresh ground black pepper * stout beer (such as Guinness®) * Lea & Perrins Worcestershire Sauce * 4 hamburger buns, split
Instructions
1.
Place the bacon in a large, deep skillet, and cook over medium-high heat, turning occasionally, until evenly browned, about 10 minutes. Drain the bacon slices on a paper towel-lined plate.
2.
Combine ground venison and ground beef in a bowl. Divide into 4 balls, and flatten into patties.
3.
Heat a large skillet over medium heat. Place the burgers in the heated skillet and sprinkle each burger with salt, black pepper, a dash of beer, and a dash of Worcestershire sauce. Flip the burgers once a brown crust has formed on the bottom, about 5 to 10 minutes. Sprinkle the cooked side of the burgers with the salt, pepper, beer, and Worcestershire. Cook burgers another 5 to 10 minutes for well done. Top each patty with bacon and serve on hamburger buns.
___________________________________________________________________________________